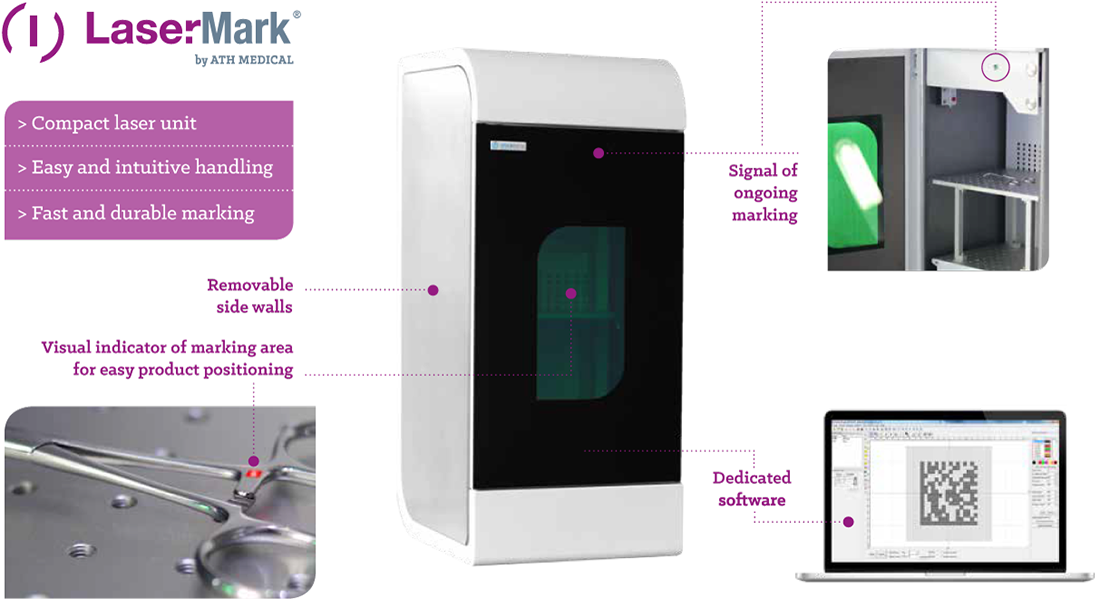 The Laser Fiber Marking Station
MARK ALL YOUR INSTRUMENTS
This laser marking machine is a laser fiber marking station specially developed to adapt to a hospital environment.
Its compact size makes it a tabletop machine that can easily fit into workspaces without the purchase of additional furniture.
This station marks any type of data (serial numbers, 2D DataMatrix code, references, logos, etc.) on surgical instruments, metal plates for bar codes, or sterilization containers.
Its ease of use allows any user to operate the marking independently thanks to an ergonomic and intuitive creation software supplied with the machine.
The machine is equipped with a safety system which immediately blocks the laser when the door is opened during the marking process. Thus, users can work in a completely secure way. In the same way, the glass door protects the users from laser radiation, making it possible to observe the marking process without having to wear Personal Protective Equipment
TECHNICAL CHARACTERISTICS
Weight
52kg
Dimensions
H : 76cm x W : 32cm x D : 49cm
Marking area
100x100mm (200x200mm in option)
Laser power
20 W
Laser type
Fiber wavelength 1064 nm
Marking speed
≤ 7000 mm/sec
Minimum width of line
0.02 mm
Minimum height of characters
0.15 mm
Engraving depth
0 – 0,5mm
Voltage / Frequency / Power
220V AC / 20 ~ 30 Hz / 0.5 KW
Lifetime
More than 100 000 hours
Compatible materials
Metals: Steel, Stainless Steel, Aluminum, Carbide, Carbon,
Copper, Brass, Titanium,
Plastics: ABS, Polyamide (PA), Polyoxymethylene (POM),
Polybutylene Terephthalate (PBT)
Others: Electrical and medical ceramics
Security
Certified class 1 (closed door) according to standard NF EN 60825-1