Ancitrak®, efficient traceability workstation
that improves the reassembly of loan sets
Ancitrak® is a traceability workstation that helps operators in surgical set reassembly to identify and track surgical instruments with or without DataMatrix and validate their positioning in the set. The system allows to communicate all tray assembly information directly to the sterilization software.
Thanks to a patented technology – EasyIDm algorithm – Ancitrak® identifies and ensures the tracking of all types of reusable surgical devices (with or without DataMatrix), according to its basic physical characteristics.
The EasylDm algorithm recognizes the instrument whatever its positioning direction, size and shape.
Trace, Manage & Secure
Gather & manage inventories from the reassembly process to the identification of each surgical device
Suitable with any sterilization software
Set up either in sterilization center and/or operating theater
Share datas with other hospitals and healthcare units without relying on a 3rd part.
Ready to plug to your devices (barcode scanner, desktop printer, marking machine…)
Main features
Standalone workstation: integrated computer
Software connectivity to other HIS (Health Information System)
Hardware connectivity to WhiteReader®, scanner, printer…
Touch screen: Anti-glare technology, ergonomic design, IP54 waterproof
Save more than 700 hours
and 120 000$ per year
More time to focus on patient surgeries and less on managing loan sets!
Getting the right device at the right time in the right tray!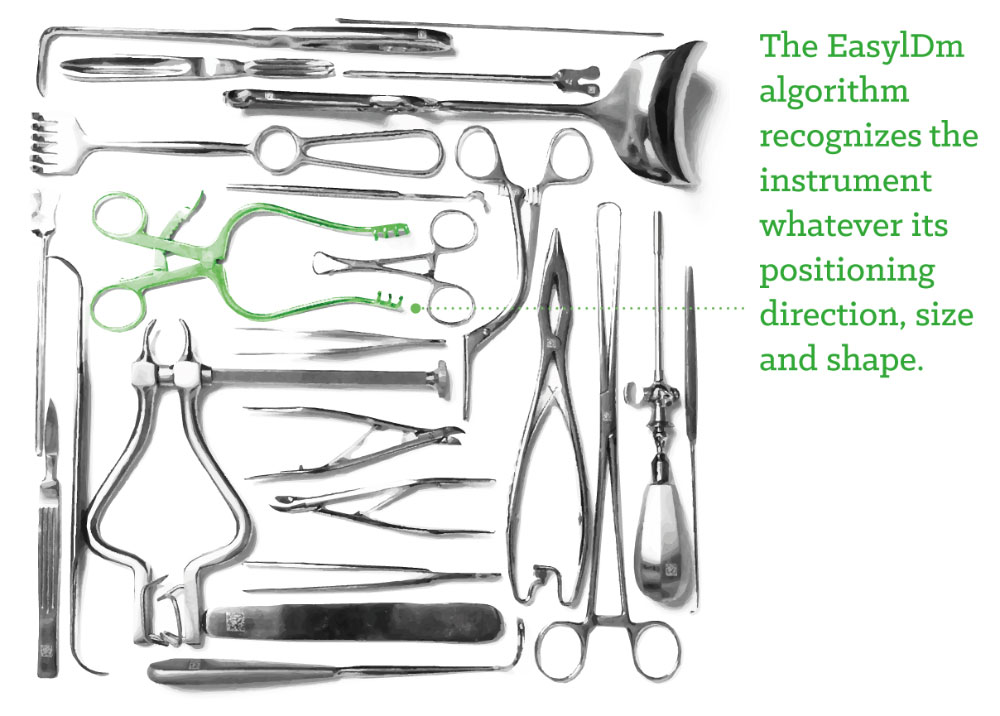 Managing loan sets for surgery
has never been so easy
Up to 20% of productivity gain
Optimize handling
Simplify reassembly process for both operating theater & sterilization center staff
Smart recognition system to find the missing instrument

Positioning help system
Missing instrument identification

Suitable for any complex loan sets
Improving Patient Safety
Ensure the reassembly of any kind of surgical instruments with or without marking code
Secure the content of each surgical trays
Guarantee reliable reassembly of the trays according to the operators habits
Focusing on what matters
Record and check surgery trays in real-time
Create your own digital booklet to make your daily task easier