Born from private research,  ATH Medical SAS is a French innovative company created in 2013, willing to ensure safety and financial risk management of the implantable and reusable medical devices for hospitals and patients.
Our R&D efficiency allows to enhance patented solutions, and acknowledged universally as a real answer to instrument and implant data management issues met by sterilization departments and operating rooms.
We implement in-real-time traceability systems, secure, flexible and scalable that ensure database creation and management step by step, with productivity and security.
In 2014, ATH Medical received the INNOSTER award; prize awarded by the French heads of department, for the most innovative product range in the field of traceability. That same year, we were semi-finalist of the StartMeUp innovation international competition.
In 2015, a medical and economic evaluation of our system in partnership with Lille University Regional Hospital Centre and UNIHA group, central purchasing organization established by the French Health Ministry.
In 2016, thanks to their study using AnciTrak®  for loan instruments management, Lille University Regional Hospital Centre received the prestigious scientific e-poster award during WFHSS 2016.
Since 2017, ATH Medical is a member of the Sterimed Group.
In 2021, we officially launched AnciTrak – the new generation.
The future of AnciTrak V2 is now at your doorstep, accelerating digital transformation and helping hospitals, super centres, and loan set manufacturers manage and handle all surgical and invasive instrumentation.
With ATH Medical, more than 3,000,000 instruments are safely identified and tracked each year.
OUR VISION
All around the world, healthcare facilities face issues with the logistics circuit of loan sets. This is, due to the multiple actors involved in the process, as well as a lack of regulation, making the management of loan sets complex and not adapted for guaranteed patient safety.
Beside the logistics issues of loan sets, healthcare facilities must prepare themselves for the application of the new European Medical Device Regulation (EU) 2017/745, involving full and global traceability of medical devices throughout their entire life cycle.
Thus, healthcare facilities must ensure they have the right tools and resources to enforce the implementation and management of the UDI (Unique Device Identification) by May 2027 at the latest.
ATH Medical brings solutions to the market to help CSSD & OR managers in hospitals handle and manage all reusable or implantable medical devices.
Ensuring that instruments and trays are well documented and tracked throughout the process and life cycle can eliminate any possible errors. By helping healthcare professionals in the management of loan set logistics and the assembly of all surgical trays, ATH Medical enables, both, the availability and the conformity of required surgical instruments for each surgery, providing safety and peace of mind to the surgical team and patients.
OUR VALUES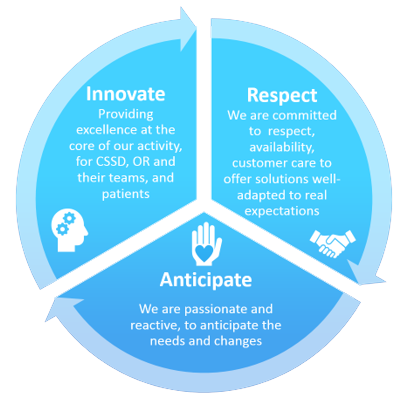 We are innovating providing excellence (for sterilization departments, operating rooms and their teams)

We have respect and empathy for our customers (to offer solutions well-adapted to real expectations)

We are passionate and reactive (to anticipate needs and changes)
Standalone workstation that provides integrated computer EasiDM algorithm and allows instrument recognition.
DataMatrix code reader, specifically designed to read engraved codes on surgical instruments.
Learn why
our solutions are
trully optimized