Real-time availability of Implantable Medical Devices (IMD)
in the Operating Room and of product stocks in care units
ImplanTrak® is an IT platform for the traceability of medical devices.
This solution was developed for hospital pharmacy services in order to simplify and speed up the management of inventories of implant stocks in the Operating Room, as well as the kanban management of product stocks in care units, thanks to RFID technology.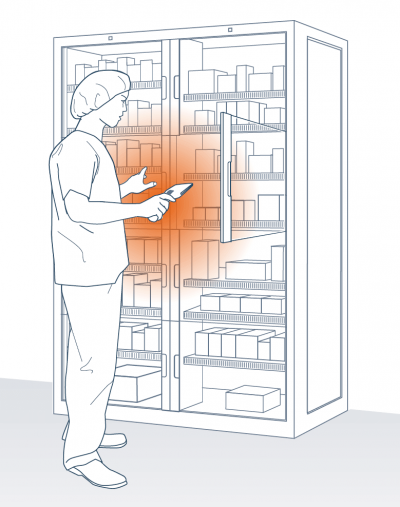 How it works ?
Via its database, the software generates and prints an adhesive and repositionable RFID label containing general product information.
The label is affixed to the box of each IMD upon receipt.
When it comes to managing the stocks of products in healthcare units, the pharmacy is faced with a very large number of references to manage.
To avoid the discomfort of supply disruptions, overestimated quantities may be ordered, therefore causing excess inventory and often wastage.
The nursing staff of each unit then changes the status of the stock on the label according to its actual status.
When the stock is exhausted, the metal plate is shifted to the side, exposing the chip RFID integrated under the icon indicating that the product must be ordered. The reader transmits the information to the software and therefore allows the pharmacy to initiate the replenishment.